FEBRUARY 2023

Sunday 28 . . . 3.30pm
Alison Claire Robertson (Soprano) and Glenn Amer (Piano)

Laudate Dominum . . . Wolfgang Amadeus Mozart [1756-1791]
Vesperae Solennes de Confessore (Solemn Vespers for a Confessor),

O Divine Redeemer . . . Charles Gounod [1818-1893]

Pie Jesu . . . Gabriel Faure [1845-1924]
Requiem, op 48

The Lord is my Shepherd . . . Howard Goodall [1958- ]

I'll Walk with God . . . Paul Francis Webster [1907-1984] and Nicholas Brodszky [1905-1958]
from the MGM Motion Picture, The Student Prince

Panis Angelicus . . . César Franck [1822-1890]

Alleluja . . . Wolfgang Amadeus Mozart [1756-1791]
Exsultate Jubilate K. 165

Alison Claire Robertson is a professional Musical Theatre and Opera Singer who has performed in Australia and Overseas, in Italy and the United Kingdom. She is a qualified and passionate singer, performer and teacher with over fifteen yeaqrs teaching experience.
Alison is a resident of the Southern Highlands.

Glenn Amer is one of Australia's most versatile musicians. He is Organist and Director of Music at St Peter's Anglican Church, Cremorne and Head of the Piano Faculty at the Hume Conservatorium in Goulburn.
Glenn is equally at home performing a major Bach work on the organ or a popular song by Bert Bacharach.
He has travelled the word with major cruise lines as Headline Entertainer and has been described as "having the fingers of Liberace and the voice of Mario Lanza".
Glenn has made numerous recordings and is the only artist in the history of commercial recordings to have recordings released on compact Discs, Pianola Rolls and even acoustically recorded Cylinders. He has recorded extensively for 2MBS-FM and the ABC.
He has been accompanist to a number of Australia's leading singers and has been pianist and guest conductor with the Australian Opera.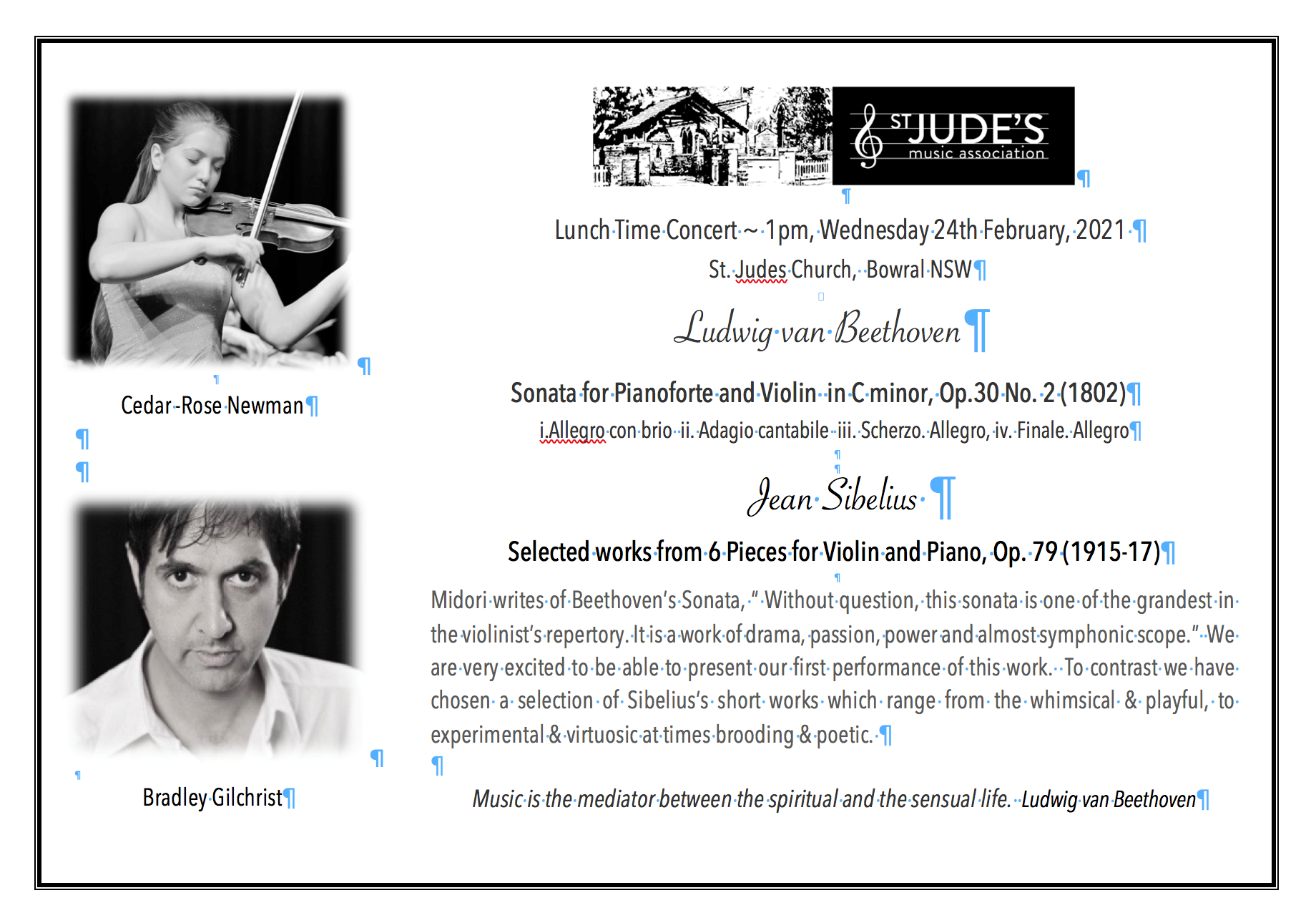 Wednesday 1 February
1.15pm: Emerging Artist Concert
Daniel Kramer (Bass)
Opera Arias and Art Songs
Daniel Kramer is commencing his first year in the Masters of Opera Performance at the Sydney Conservatorium of Music. A recent graduate of the University of Sydney, Daniel has decided to continue his opera tutelage begun under the teachings of Deborah Humble and Donna Balson. Whilst his music education began as a percussionist, it was in voice that Daniel excelled and followed a passion. He has performed with choirs throughout his life, from the Australian Youth Choir to the award-winning Aurora Choralis, and can be found every Sunday singing at St. Stephen's Uniting Church as their resident bass scholar. Notable past performances include Handel's Messiah, Mendelssohn's Elijah, and Faure's Requiem.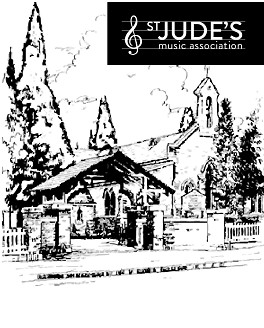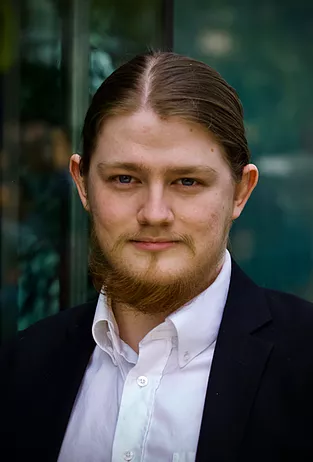 Sunday 12 February
4.00pm: Choral Communion
St Jude's Chamber Choir

Wednesday 15 February
1.15pm Mid-week Lunchtime Recital
Diana Weston and Allan Beavis (Harpsichords)

Fugue
Johann Sebastian Bach

Fourteen Canons on
the First Eight Notes of the Goldberg Ground, BWV 1087

From the Well-tempered Clavier, Book I BWV 846-869
-Prelude and Fugue I in C major
-Prelude and Fugue IV in C sharp minor

From The Musical Offering BWV 1079
Ricercar ŕ 6 arranged for two keyboards by
Tamara Loring and Jeanette Leifson

From the Well-tempered Clavier, Book I
Prelude and Fugue VIII in E flat minor

Wednesday 22 February
1.15pm Mid-week Lunchtime Recital
Brett McKern (Organ)

Music for Lent

Albinoni, Adagio for Strings
J.S. Bach, Arr: James Preston, Bist du bei mir
J.S. Bach, Chorale Prelude on Erbarm' dich mein, O Herre Gott
J.S. Bach, Arr: Nowl Rawsthorne, Sheep May Safely Graze
Barber, Arr: Richard Lloyd, Adagio for Strings
Handel, Arr: Matthew Drayton, Ombra Mai Fu (Largo from Serse)
Fauré, Arr: Bryan Hesford, Pavane


Sunday 26 February
4.00pm: "Olivet to Calvary"
St Jude's Singers and Soloists.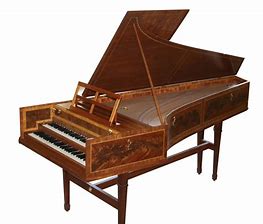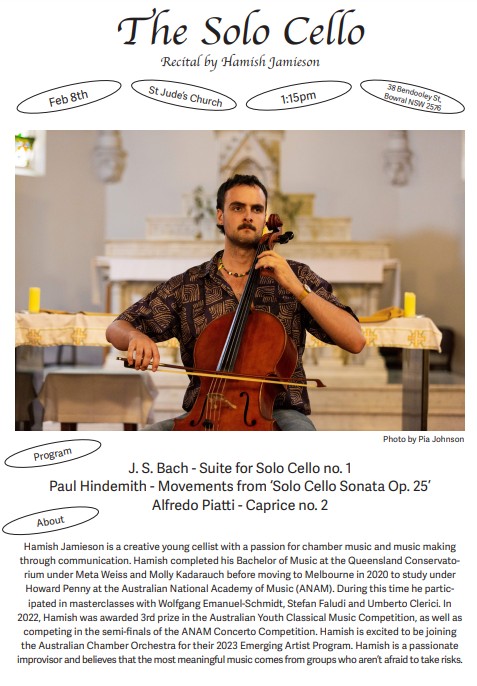 Wednesday 8 February
1.15pm: Midweek Lunchtime Recital
Hamish Jamieson (Cello)