FEBRUARY 2021



Sunday 7 . . . 3.30pm
Alyson Broadfoot (Cello) and Ann Carr-Boyd (Piano)

Program:
Introductory work (3.25pm)
Prelude from Suite No 2 in D minor for unaccompanied cello . . . J.S.Bach

Lullaby . . . Ann Carr-Boyd
Largo - Sonata No 5 . . . Antonio Vivaldi
Largo ( doloroso ) . . . Antonio Vivaldi
Pavane . . . Gabriel Fauré
Dreaming . . . Ann Carr-Boyd
Spiegel im Spiegel . . . Arvo Pärt

Alyson Broadfoot lives on a beautiful 50 acre property in Robertson -
' Wallangunda ' - named after the creek which runs in to Belmore Falls.
Alyson's special love is playing chamber music and she is enjoying her collaboration with Ann.

Ann Carr-Boyd is a composer living in Bowral. In recent years she has renewed her early interest in painting and attends classes at the BDAS.
She is a strong supporter of music in the Southern Highlands and is a patron of the Southern Highlands Symphony Orchestra and sponsor of the bi-annual composing competition held in association with the orchestra.



Wednesday 10 . . . 1.15pm
Gudrun Drake (Oboe) and John Martin (Piano)

Program:
Fantaisie No.2, TWV 40:2-13,(from 12 fantaisies for flute without bass)
. . . Georg Philipp Telemann (1681-1767)

Soliloquy for oboe and orchestra
. . . Edward Elgar (1857-1934) (arr. Gordon Jacob)

Romances Sans Paroles, Op.62/67 Vol.5, Nos 25,26,29 and 30
. . . Felix Mendelssohn (1809-1847) (arr. David Walter)

Pièce en forme de habanera . . . arr Maurice Ravel (1875-1937)



Saturday 13 . . . 2.00pm
Concert For Roma
Myee Clohessy (Director)
Admission: $30/Conc.$30/under 18 $10


Wednesday 17 . . . 1.15pm
Phoebe Gardner (Violin) & Catherine Davis (Piano)

Program:
Violin Concerto in A (Movements I, II) . . . W A Mozart
Sonata for Violin and Piano . . . Claude Debussy
Subito . . . Witold Lutoslawski
FAE Scherzo . . . Johannes Brahms

Phoebe Gardner is a graduate of The Juilliard School, where she studied with Itzhak Perlman and Catherine Cho, and supported by the Dorothy DeLay Violin Scholarship. In 2020, Phoebe began training with Dr Robin Wilson at the Australian National Academy of Music (ANAM), and is currently an Emerging Artist with the Australian Chamber Orchestra, mentored by Aiko Goto.
Phoebe has performed as a soloist and chamber musician in concerts and festivals throughout the United States, England, France, Norway, Germany, Israel and Australia.
In her spare time, Phoebe has worked and volunteered for non-profit organisations including Concerts in Motion (NYC) and the Australian Children's Music Foundation. She is also a passionate violin teacher and chamber music coach.
Catherine Davis was educated at the Conservatorium High in Sydney and the Royal Academy of Music, London, where she won all the major piano and accompaniment prizes, culminating in the Recital Diploma.
Since returning to Australia, she took up a full-time Lectureship at the University of Newcastle and, since 1999, has freelanced in Sydney where she is regularly employed by the Sydney Conservatorium, Cantillation Choir, Opera Australia Orchestra, Australian Chamber Orchestra, Sydney Symphony, Sydney Lyric Orchestra, Adelaide Symphony, Trackdown Scoring Stage in the capacity of both orchestral pianist/celeste/synth player and audition pianist.
Catherine has performed concerti with the Melbourne and Tasmanian Symphony Orchestras on a number of occasions. Recent highlights have been sharing the stage with violinists Julian Rachlin and Maxim Vengerov as well as the newly appointed Principal Horn of the Berlin Philharmonic, David Cooper. 2019 will see her continuing involvement with the Sydney Symphony, Australian Chamber Orchestra and the Australian Ballet (pianist for the newly choreographed and orchestrated ballet The Happy Prince).
Catherine has enjoyed her involvement with the ACVC since 2018.


Sunday 21 . . . 3.30pm
Hamish Wagstaff (Organ)

Program:

Psalm Prelude Set 2 No. 3 . . . Herbert Howells (1892-1983)
"Sing unto Him a new song: play skilfully with a loud noise."- Psalm 33, v. 3

Trio Sonata No. 2 in c minor, BWV 526
. . . J. S. Bach (1685-1750)
I.Vivace
II.Largo
III.Allegro

Variations sur un thème du Clément Jannequin
. . . Jehan Alain (1911-1940)

Laudes . . . Francis Pott (b. 1957)

Hamish Wagstaff commenced his organ studies in 2012 with Robert Wagner as a student of Sydney Grammar School. He is currently studying for a Bachelor of Music at the Sydney Conservatorium of Music under Philip Swanton, where he holds the Richard and Doreen Wilson Organ Scholarship. In addition to his studies, Hamish is Assistant Organist at Christ Church St Laurence, where he accompanies and regularly conducts the renowned Choir in the weekly pattern of services. He was previously Organ Scholar and subsequently Acting Director of Music at St John's, Dee Why. Hamish was selected to perform in the 2017 HSC Encore Showcase at the Sydney Opera House, and maintains an active schedule as a recitalist. Recent engagements include performances at Sydney Town Hall, a recital tour of the United Kingdom, and appearances in Bowral and Albury in early 2021.


Wednesday 24 . . . 1.15pm
Cedar-Rose Newman (Violin) and Bradley Gilchrist (Piano)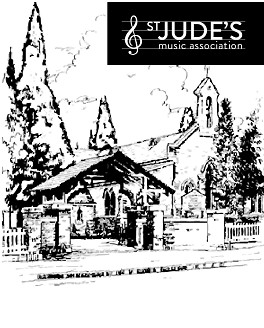 Sunday 28 . . . 3.30pm
Alison Claire Robertson (Soprano) and Glenn Amer (Piano)

Laudate Dominum . . . Wolfgang Amadeus Mozart [1756-1791]
Vesperae Solennes de Confessore (Solemn Vespers for a Confessor),

O Divine Redeemer . . . Charles Gounod [1818-1893]

Pie Jesu . . . Gabriel Faure [1845-1924]
Requiem, op 48

The Lord is my Shepherd . . . Howard Goodall [1958- ]

I'll Walk with God . . . Paul Francis Webster [1907-1984] and Nicholas Brodszky [1905-1958]
from the MGM Motion Picture, The Student Prince

Panis Angelicus . . . César Franck [1822-1890]

Alleluja . . . Wolfgang Amadeus Mozart [1756-1791]
Exsultate Jubilate K. 165

Alison Claire Robertson is a professional Musical Theatre and Opera Singer who has performed in Australia and Overseas, in Italy and the United Kingdom. She is a qualified and passionate singer, performer and teacher with over fifteen yeaqrs teaching experience.
Alison is a resident of the Southern Highlands.

Glenn Amer is one of Australia's most versatile musicians. He is Organist and Director of Music at St Peter's Anglican Church, Cremorne and Head of the Piano Faculty at the Hume Conservatorium in Goulburn.
Glenn is equally at home performing a major Bach work on the organ or a popular song by Bert Bacharach.
He has travelled the word with major cruise lines as Headline Entertainer and has been described as "having the fingers of Liberace and the voice of Mario Lanza".
Glenn has made numerous recordings and is the only artist in the history of commercial recordings to have recordings released on compact Discs, Pianola Rolls and even acoustically recorded Cylinders. He has recorded extensively for 2MBS-FM and the ABC.
He has been accompanist to a number of Australia's leading singers and has been pianist and guest conductor with the Australian Opera.