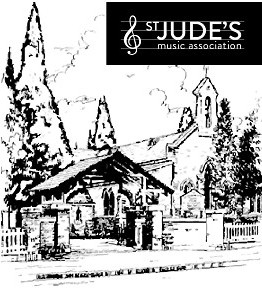 Friday 29 to Sunday 31 March

NB: Admission by ticket only.
Tickets available on line at Powerpoint Music Bowral and Destination Southern Highlands Mittagong (Ph: 1300 657 559)
Also at the door.

Friday 29 . . . 1.30pm
Concert I & Reception
This concert features the virtuoso pianist, Stefan Cassomenos, winner of the prestigious International Telekom Beethoven Competition(Bonn) and Grand Finalist of the Rhodes International Piano Competition. Stefan Cassomenos is one of Australia's most vibrant concert pianists. The program includes works by Chopin, Ravel, Maria Grenfell, Liszt and Schulz-Evler. Ticket price includes the Festival Welcome Reception with a complimentary glass of Tertini sparkling wine and a chance to mingle with Festival Artists.

Friday 29 . . . 4.00pm
Concert II
This "Young Recitalists" concert features the violinist Marcus Michelsen and organist Titus Grenyer. Fifteen year old Marcus Michelsen is the concert master of the Sydney Youth Orchestra (the youngest person to hold that position) and Titus Grenyer, who plays a multitude of instruments) is the Organ Scholar at St James' Church, King Street, Sydney. These two very talented young musicians will perform works by Albinoni, Bach, Elgar, Lubeck and Rheinberger.

Friday 29 . . . 7.00pm
Concert III
In this concert, the resident Festival Ensemble, The Acacia Quartet, will be joined by pianist Stefan Cassomenos. The program opens with a world première of a Quartet composed especially for BAMF and Acacia by Australian composer, Alice Chance. This will be followed by Beethoven's Quartet "La Malinconia" and Dvorâk's second Piano Quintet.

Saturday 30 . . . 10.30am
Concert IV
This second "Young Recitalists" concert is presented by the preeminent young ensemble the Geist String Quartet, a quartet formed while still members of the Australian Youth Orchestra. Winners of a number of awards, the quartet has performed in Europe and the USA. They will perform works by Schubert, Nigel Westlake, Villa-Lobos and Piazzolla.

Saturday 30 . . . 1.00pm
Concert V
This is a special Children's Concert "Da Vinci's Apprentice". This intimate musical performance is a delightful musical journey of discovery where children are challenged to ask questions and expect the unexpected. It is presented by Jenny Eriksson viola da gamba, John Foster zink, Shaun Ng theorbo and Britanie Shipway singer/actress.

Saturday 30 . . . 3.00pm
Concert VI
Organist David Drury will be joined by the Australian Baroque Brass to present music for sackbut, cornetti and chamber organ. In addition David Drury will perform works by Buxtehude and Bach on the St Jude's Organ. Audiences will experience the extraordinary different musical styles of brass composers of the European baroque period.

Saturday 30 . . . 6.30pm
Concert VII
This concert is presented by the Australian Romantic & Classical Orchestra Soloists. The ARCO was stablished in 2013 by the late Richard Gill AO. Comprised of hand-picked internationally-respected musicians, the ARCO Soloists will uncover music by the 18th century Czech composer Giovano Punto and French composer Francois Devienne and conclude with Beehoven's glorious Septet for winds and strings. This concert will be followed by a Recption for BAMF Society Members

Sunday 31 . . . 10.00am
Festival Service
The Festival Service for the 2019 Bowral Autumn Music Festival will be held in St Jude's Church on Sunday 31 March commencing at 10.00am. At this service of Matins from the Book of Common Prayer the Festival Chorale will sing Benjamin Britten's Te Deum and Jubilate in C and Sir John Stainer's double anthem "I Saw the Lord". Also included will be a setting of Psalm 67 by local composer David Basden composed in June 2018. All welcome

Sunday 31 . . . 12.30pm
Concert VIII
This concert will be the launch of Acacia Quartet's CD "Imaginations. Also featured is classical guitarist Matt Withers who will join with the Acacia Quartet to perform three works for guitar and string quartet. The program includes four works by Australian composers written in 2018. Within the program Matt Withers perform J S Bach's entrancingly beautiful Prelude, Fugue and Allegro originally composed for lute.

Sunday 31 . . . 3.15pm
Concert IX
For this exciting festival finale, Acacia will start with Mozart's "Dissonance" Quartet. They will then welcome to the stage leading String Players from the Southern Highlands Symphony Orchestra to perform Rossini's charming yet vivacious String Sonata No 4, in celebration of our thriving local talent and the pursuit of excellence.







MARCH 2019

Wednesday 6 . . . 1.15pm
(Ash Wednesday)
Midweek Lunchtime Recital
Kjell Goyer (Guitar)
"the guitar is the guitar is the guitar"

A selection of music across different styles and different centuries composed by guitarists, written for guitarists and performed by guitarists.
Admission by donation.

Sunday 10 . . . 3.00pm
Cantata: Crucifixion (John Stainer)
St Jude's Singers
Soloists: David Allen (Tenor)
Christopher Harris (Bass)

In preparation for Passiontide and Easter, the St Jude's Singers with soloists David Allen (tenor) and Christopher Harris (baritone) will sing Sir John Stainer's Cantata "Crucifixion" . This work is subtitled "A Meditation on the Sacred Passion of the Holy Redeemer". It was first performed on the day after Ash Wednesday in 1887 so there is good precedence to sing this work on the first Sunday in Lent.

Friday 15 . . . 10.30am
M&L Concert
The Highlands Sinfonia
Soloists:
Judith Rough (Soprano)
Chris Griffths (French Horn)

In this concert the Highlands Sinfonia will be joined by Soprano Judith Rough to perform arias by Haydn and Mozart and Christopher Griffiths to perform Richard Strauss's "Horn Concerto Op.11" Also on the program is Haydn's Symphony No.96 "The Miracle".
Judith Rough needs no introduction to the Highlands as she is a regular performer at St Jude's and has, on a number of occasions, performed with the Southern Highlands Symphony Orchestra.
For over twenty years Chris Griffiths was a member of the Royal Northern Sinfonia in the United Kingdom. He will be in Australia in March and has agreed to perform with the Highlands Sinfonia. Chris is a double amputee resulting from Charcot-Marie-Tooth Disease (CMT) and the proceeds from this concert will be directed to CMTAA (Charcot-Marie-Tooth Disease Association Australia) . It is estimated that as many as 1 in 2,500 Australians could have CMT.

Admission: Concert only $20; Concert and Lunch $27


Wednesday 20 . . . 1.15pm
Midweek Lunchtime Recital
Allan Beavis (Organ)

Program:
Toccata in C . . . J S Bach
Prelude and Fugue No.2 in G major . . . Felix Mendelssohn
Prelude and Toccata form "twelve Pieces" . . . Théodore Dubois.

Admission by donation.

Friday 29 to Sunday 31
Bowral Autumn Music Festival
(see insert)