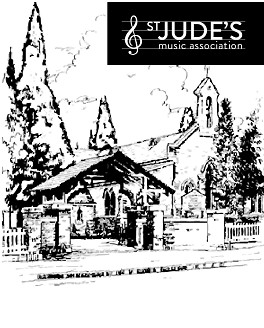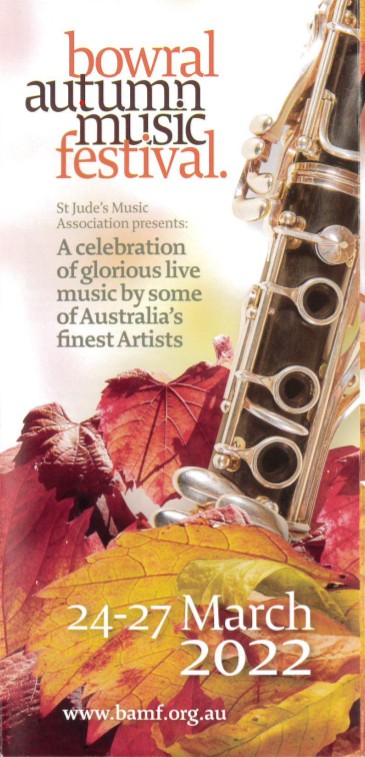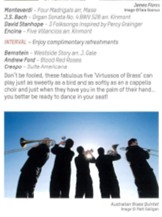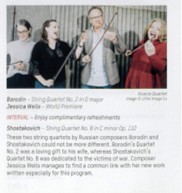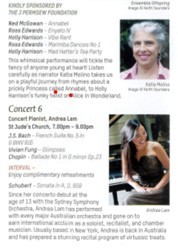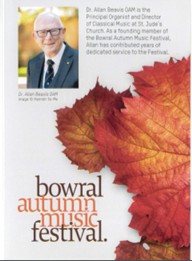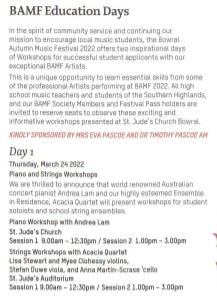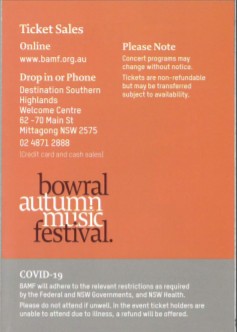 MARCH 2022



Wednesday 2 at 1.15pm
Midweek Lunchtime Recital
Diana Weston and Mary Sambell (piano) in Duet

Programme
Ann Carr-Boyd: Percy crosses the Nullabor
Ross Edwards: A Flight of Sunbirds (selected bagatelles)
Peter Sculthorpe: Sea Chant, Morning Song
Ann Carr-Boyd: Percy goes to Mudgee
Long-standing friends finally meet up for some personal music-making. Mary Sambell - pianist, accompanist, teacher and music educator - joins Thoroughbass director Diana Weston for some truly delightful duets.
Come join us to hear a selection from Ross Edwards' A Flight of Sunbirds, Peter Sculthorpe's Morning Song and Sea Chant, and to book-end the programme - Ann Carr-Boyd's absolutely captivating newly minted suites Percy crosses the Nullabor and Percy goes to Mudgee. With any luck you might meet Percy himself!
Diana and Mary's collaboration extends further to embrace the child in us with a new recording of piano and harpsichord music by Ann Carr-Boyd and Diana Blom - SPACE JUNK.


Sunday 6 at 4.00pm
Evensong
St Jude's Singers

The St Jude's Singers will sing the service setting of Thomas Walmisley and the anthem "If ye believe that Jesus died and rose again" by Sir John Goss.


Wednesday 9 at 1.15pm
Midweek Lunchtime Recital
Callum Knox (Organ)

Programme:
J P Sweelinck
Toccata in a minor, Toccata in C major.
J S Bach
An Wasserflussen Babylon (BWV653)
Herbert Howells
Psalm Prelude Set 1 Number 1
Max Reger
Fugue in D major from 12 Stucke, Op59


Sunday 13 at 4.00pm
Choral Communion
St Jude's Chamber Choir
Service Setting by Flor Peeters


Wednesday 16 at 1.15pm
Midweek Lunchtime Recital
Hamish Wagstaff (Organ)


Sunday 20 at 3.30pm
Pre-Service Recital
Diana Weston(Piano)
Playing the Square
Come and listen as we reveal the secrets of the 'square' piano. What is a 'square' piano, you ask. Lid closed, it looks like a rectangular table. Open the lid, and there is the usual piano keyboard, foreshortened a bit, but recognizable for what it is - an early piano forte. Our English-made Robertson square piano has been revealing some interesting stories about the music composed for it, and its place in Australian colonial history.
Its voice is mellow, reverberative and gorgeous. I wish you could hear the real deal, but our fragile old gentleman can't be moved easily. You'll have to wait for our recording for that.
In the meantime, these lovely pieces by Haydn, Pleyel and Cramer were written for just such an instrument, and sound (almost) as good on a modern grand that knows the secrets of the square.


Thursday 24 to Sunday 27
Bowral Autumn Music Festival

Wednesday 30 at 1.15pm
Midweek Lunchtime Recital
Dean Rickles (Piano)

Program:
Ludwig van Beethoven: "Moonlight" Sonata,
I. Adagio Sostenuto; II. Allegretto; III. Presto Agitato
Frederic Chopin: Two Mazurkas, Op. 7/3 and Op. 33/4
Franz Liszt: Vallee d'Obermann.