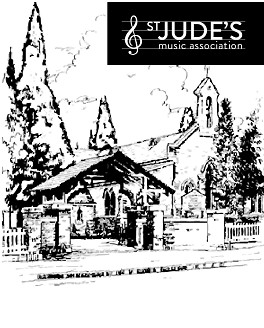 APRIL 2017

Wednesday 5. . . 1.15pm
Midweek Lunchtime Recital
Lisa Kawai (Piano)

Program:
Two Sonatas.
Sonata Op110 . . . Beethoven
Sonata Op120 . . . Schubert
Lisa Kawai is well-known in the Highlands as both a pianist and cellist. She regularly performs as a piano soloist with the Highlands Sinfonia and has performed in that capacity with the Southern Highlands Symphony Orchestra. When not playing as soloist, she plays cello in both the Sinfonia and the Symphony Orchestra. Her recital program commences with one of Beethoven's later Sonatas, No 31 in A flat major. This work is in three movements: Moderato cantabile molto espressivo; Alegro molto; and Adagio ma non troppo - Allegro ma non tropo. The second sonata is by Franz Schubert whose idol was Beethoven. His posthumous Op120 is often referred to as the "little A major sonata. It too is in three movements: Allegro moderato; Andante; and Allegro.
Admission by donation.


Good Friday 14 . . . 5.30pm
"St Luke Passion" (J S Bach)
St Jude's Singer & Soloists

This work, to be presented in St Jude's Church Bowral on Good Friday, is a narration of the Passion of Jesus as contained in the Gospel of St Luke. It is a moving account of Jesus' arrest, trial and crucifixion interspersed with some of the great chorales of the Lutheran Church. It is not certain that Bach actually composed this work. Although extant in Bach's hand, it is not of the same scale as his well-know "St Matthew" and "St John" Passions and may well have been copied by him for presentation on Good Friday in 1730. If Bach did not compose it, he certainly thought enough of the work to write it out for performance. The performance in St Jude's is being presented by the St Jude's Singers (Director and Harpsichord: Allan Beavis) with David Allen (Evangelist), Christopher Bambach (Christus), Melinda Richardson (Soprano), Kim Stewart (Organ) and Catherine Barnett (Cello).

Wednesday 19 . . . 1.15pm
Midweek Lunchtime Recital
Allan Beavis (organ)

Program:
O Filii . . Guilmant
Scherzo Symphonique . . . Guilmant
Grand Choeur alla Handel . . . Guilmant
Allan Beavis is the resident organist at St Jude's and this recital features works by one of the "fathers" of the French Romantic style of organ composition, Alexandre Guilmant. The three major works are a set of variations on the Easter chorale "O Sons and Daughters of the King", the Scherzo Symphonique and a Grand Choeur in the style of Handel. Guilmant was fond of Handel's music and was one of the first composers to transcribe his works for solo organ.
Admission by donation.

Monday 24 . . . 5.30pm
ANZAC Commemoration
Local Singers
(Christine Tilley, Director)

In recent years, it has become the custom at St Jude's to sing Faure's "Requiem" on the eve of ANZAC Day. This year singers from the Southern Highlands under the direction of Christine Tilley will sing the "Funeral Sentences" from the Book of Common Prayer as set to music by the English composer Henry Purcell for the funeral of Queen Mary. The will also sing John Ireland's anthem, "Many Waters Cannot Quench Love". This anthem contains the line "greater love hath no man than this, that a man lay down his life for his friends": a fitting commemoration for those who paid the supreme sacrifice in the theatres of war.
Members of local community and service organizations are cordially invited to attend.