JUNE 2019

Saturday 1 . . . 2.30pm
Ballads By Candlelight
The Idea of North

2019 marks a full decade since The Idea of North first presented this special concert. Ballads By Candlelight is a show full of beautiful music sung in stunning acoustics, surrounded by the intimate glow of candlelight.
We are so very pleased to have our astounding vocal percussionist KAI KITAMURA with us for this special event. All the way from Tokyo, Kai's musical, subtle, often hilarious mouth drumming is the perfect compliment to The Idea of North's audience-pleasing mix of songs you love (given facelifts), and new songs introduced to you with TION's trademark warmth, humour and emotive depth.
Join Australia's best-loved vocal group for an emotional musical experience you will not quickly forget.

For tickets, go to:
www.idea.com.au/our_shows


Sunday 2 . . . 3.00pm
Evensong
The Choir of St James' Church,
King Street, Sydney

The Choir of St James Church King Street Sydney will sing Evensong followed by a short recital in St Jude's Church, Bowral, on Sunday 2 June commencing at 3.00pm.

The Choir of St James' consists of around a dozen professional adult singers, and who are an eclectic mix of instrumentalists, vocal soloists, teachers, jazz musicians, composers, artistic administrators, musical theatre performers and lawyers. The Choir itself maintains a regular schedule of weekly choral services including Wednesday evensong and Sunday Choral Eucharist, in addition to special services including weddings, funeral, state funerals and memorials. It has become known and highly regarded for its artistically outstanding performances, from small choral pieces to large-scale choral and orchestral works. The Choir presents an annual series of three Orchestral Masses in January, and a Concert Series of six concerts throughout the year, and a Bach Cantata series with BachBand@St James', where, four times a year, a Cantata by J.S. Bach is performed in a liturgical setting, modelled on the Lutheran Service of Vespers.

The Choir has a large and varied repertoire, both sacred and secular, encompassing music from the Middle Ages to the contemporary, and it is committed to supporting new Australian works, including compositions written by past and present members of the Choir; there is no other choir in Australia that fosters local talent in this way

All welcome.


Wednesday 12 . . . 1.15pm
Midweek Lunchtime Recital
Andrew Blanch (Guitar)

Following his spectacular performance with Ariel Nurhadi at the Midweek Lunchtime Recital at the end of May, Andrew Blanch returns for a solo perfomramce at the Midweek Lunchtime Recital on Wednesday 12 June. His program includes works by J S Bach, Tarrega, Rodrigo, Castelnuovo-Tadesco and works from Venezuela.

Program:
Fuga from Violin Sonata No. 1 - J.S. Bach
Carnival of Venice - Francisco Tarrega
Tiento Antiguo - Joaquin Rodrigo
Sonata for Guitar - Mario Castelnuovo-Tedesco
4. Vivo ed Energico
6 Pieces from Venezuela
Priva Resuello - Ignacio 'Indio' Figueredo (arr. Diaz)
Nostalgia - Joaquin Ramos (arr. Diaz)
Pasillaneando - Jose la Riva Contrera (arr. Diaz)
El nino malcriado - Vicente Emilio Sojo (arr. Diaz)
El Simplicio - Vicente Emilio Sojo (arr. Diaz)
Maria Carolina - Antonio Lauro

Admission by donation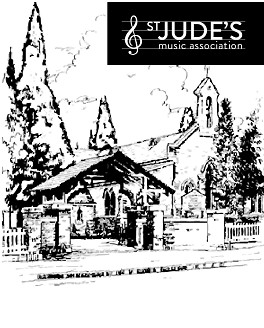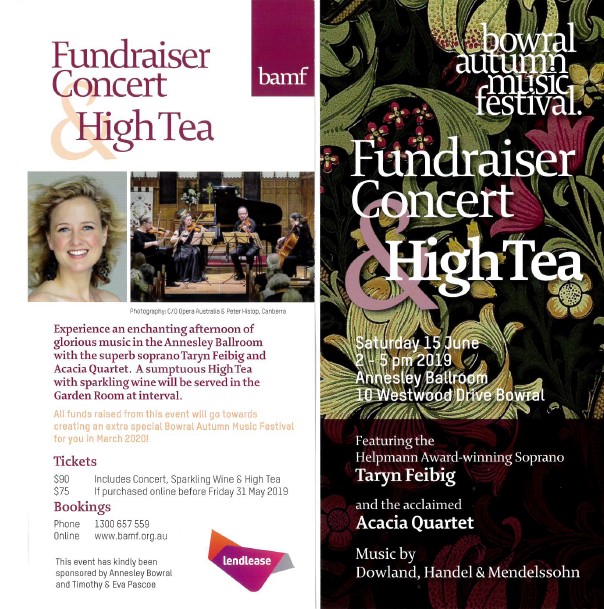 Sunday 23 . . . 3.00pm
Evensong
St Jude's Singers

The setting for this Service from the Book of Common Prayer is by the English composer and Stanley Wilson. Wilson was a "rising name" of the 1920s and 30s although today he is relatively unknown. He studied with Sir Charles Villiers Stanford and Sir Adrian Boult and composed in a number of genres including works for orchestra as well as for choir. Among the latter are settings of the canticles for Morning and Evening Prayer in the key of C major.
The Anthem is by Edgar Bainton: "And I saw a New Heaven and a New Earth" (Revelation 21:1-4). Bainton was one time Director of the NSW State Conservatorium of Music.

All Welcome.


Wednesday 26 June at 1.15pm
Midweek Lunchtime Recital
Bellissima
Vanessa Woodhill & June Pronk (recorder),
Ann Car-Boyd (harpsichord), David Archer (cello)

Local artists Vanessa Woodhill & June Pronk (recorder), Ann Car-Boyd (harpsichord) and David Archer (cello) will present a program of examples of George Frideric Handel's ensemble music from eighteenth century London.

Admission by donation.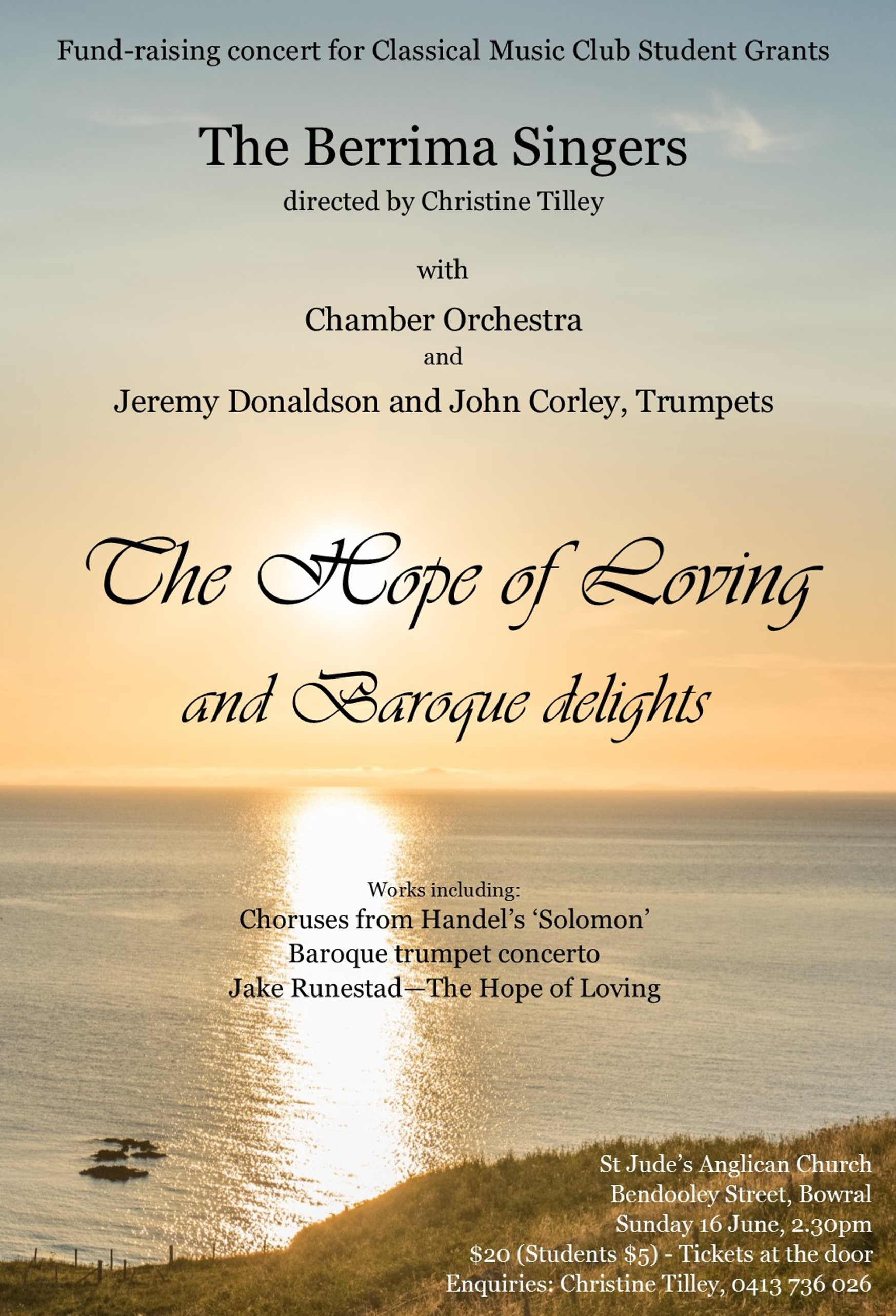 Friday 21 . . . 10.30am
M&L Concert
The Highlands Sinfonia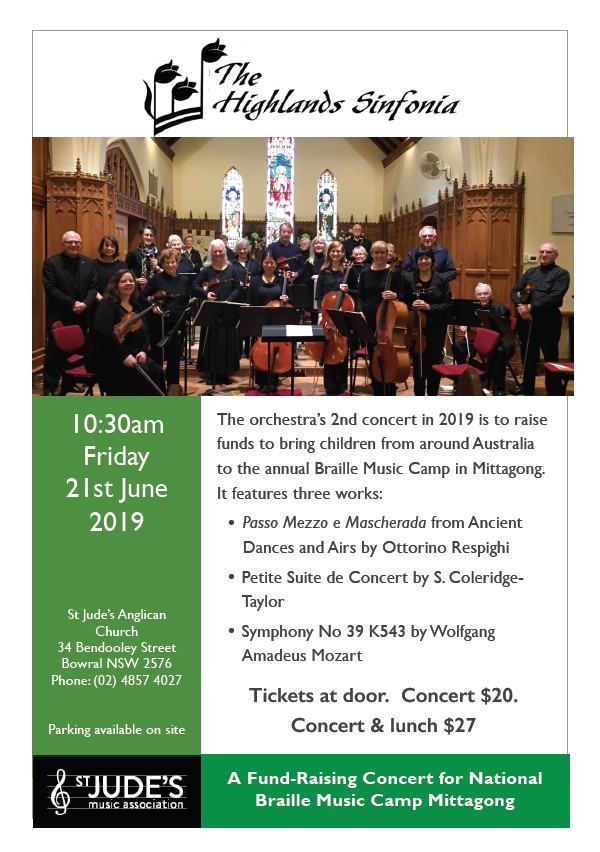 (Saturday 15 . . . 2.00pm
BAMF Fundraiser Concert and High Tea at Annesley)
(see adjacent leaflet)



Sunday 16 . . . 2.30pm
BDMG Scholarship Concert
Instrumentalists