DECEMBER 2017


Sunday 3 . . . 3.00pm
Advent Service
St Jude's Singers

The traditional Advent Service of Readings and Music "From Darkness to Light" will be held in St Jude's Church Bowral on Advent Sunday 3 December commencing at 3.00pm. In this service candles are lit from the western end of the church to the eastern end as the various readings are read. The readings are interspersed with anthems and hymns by composers including Italian Renaissance composer Giovanni Pierluigi Palestrina, Thomas Weelkes,
J S Bach, Herbert Sumsion and contemporary Australian musician Graham Whale.


Wednesday 6 . . . 1.15pm
Midweek Lunchtime Recital
Christopher Harris (Baritone)
Ann Hoy OAM (Piano)

"A Shropshire Lad"
Words: A E Housman
Music: Sir Arthur Somervell
Loveliest of trees
When I was one and twenty
There pass the careless people
In summer-time on Bredon
The street sounds to a soldier's tread
On the idle hill of summer
White in the moon
Think no more lad
Into my heart an air that kills
The lads in their hundreds


Sunday 10 . . . 7.00pm
BDMG Concert
Berrima Singers, Robert Smith (organ) and
Promising Young Instrumantalists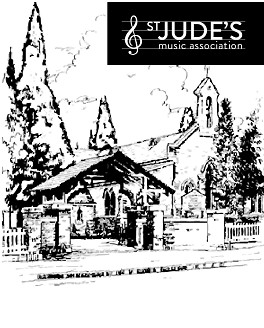 Sunday 17 . . . 7.30pm
Traditional Service of Lessons & Carols
St Jude's Singers

The traditional service of Nine Lessons and Carols as introduced in Kings College Chapel, Cambridge, UK, in 1918 and based on the service introduced by Bishop Benson of Truro, Cornwall (later Archbishop of Canterbury) in 1880. The Service includes readings from the Bible telling the story of the fall of humanity, the promise of the Messiah and the birth of Jesus. This is interspersed with Christmas Carols and Hymns beginning with the traditional introductory carol "Once in Royal David's City".
The Service is led by the St Jude's Singers.