Chamber Concert
Monday 9 February 2015

Kammer Philharmonie Köln - Chamber Philharmonia Cologne

St Jude's was almost three quarters full for the concert presented by the Philharmonia which is touring Australia. Perhaps the best comment is that it is a pity St Jude's was not full to overflowing to enjoy this excellent group and the superb program.

The other point to make is that what the presence of this group and their performance made manifest is the truly international grounding for what we know of as classical music and of those who play such. Three soloists performed, one born in Ukraine, one in Belarus and one in Kazakhastan; two violinists were Australian as was the viola player; and the double bass player, Peter Langisch, who introduced the group and the works, is from Munster (Germany). While two of the composers represented were Italian, one was Spanish and the other Austrian (perhaps more often thought of as German).

We started with Vivaldi and the "Winter" concerto from the Four Seasons. Vivaldi himself was noted as a virtuoso violinist and there is no doubt that the work reflects the demands for an extremely accomplished soloist. And this we were privileged both to hear and to watch as he played, Sergey Didorenko (born in Ukraine): he was marvellous to watch and to listen to. The second piece, also Vivaldi, was a concerto for violoncello with Dmitri Gornovsky (born in Kazakhstan) as soloist. Somewhat softer and quieter than "Winter", this too is a piece which demands great accomplishment which Gornovsky manifest. The final work in this half of the concert was by a composer who may be less well known, Pablo de Saraste (Spanish), another accomplished violinist who composed a "Carmen Fantasy", based of course on Bizet's "Carmen", for violin and orchestra with Didorenko as soloist. Well, if Didorenko's playing in "Winter" was wonderful his performance of this Fantasy was electric: superb technique and wonderful sound.

After a brief intermission we were introduced to Gioachino Rossini, of course renowned for his operas, but here a serenade, "La Tempesta di Mare", for two violins, violoncello and double bass. Surely not as well known as the operas, this was a delightful piece beautifully performed. But, then, what can be said of the final work, almost a piece de resistance: Mozart's Clarinet Concerto? Mozart's work has been described as sublime and I cannot find a better word to describe all his work (or those of his works I know), of which this concerto is truly moving and awe inspiring. The soloist was Roman Kushniarou, born in Minsk, Belarus, now resident in Germany. Clearly at one with his instrument and with Mozart he gave us a presentation of this remarkable work which I can only describe as truly wonderful.

The audience clearly appreciated - perhaps a real understatement - all the works presented and those who played for us. Yet Kushniarou with his clarinet gave such a performance that as well as the applause many stood in acclamation. This was acknowledged with two encores, one with Kushniarou playing again and the other the whole ensemble (though not Kushniarou and his clarinet). It was a marvellous evening, clearly enjoyed by all present; and clearly the performers enjoyed themselves as they played for us. We can but hope that the Kammer Philharmonie Köln will accept the heartfelt words of appreciation given by Dr Allan Beavis OAM and his invitation for them to return.


Stanley Croker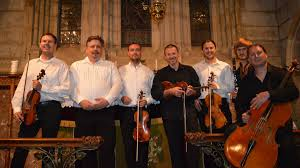 Everyone in Mt Eymard (a Retirement Village in Bowral) is RAVING over last night's Chamber Philharmonia Cologne concert!